Are you seeking to improve your organic rankings in Google, Bing, and Yahoo? If so, you need to look at the professional SEO Audit Services performed by our experts at SEO For Local.
What To Do When Your SEO Sucks!
Did you know that most business owners are struggling to improve their website's performance? Consequently, they are not getting the traffic they were expecting. Are you one of those business owners?
The solution? Leave your ranking challenges to our certified experts; we'll get your website into tip-top SEO shape. Our SEO Audit will help you understand the issues preventing you from ranking at the top pages in the SERPs Search Engine Results Pages.
Why are we here? We exist to share our skills, insights, and search engine optimization experience with those who would like to get their websites ranked. 
There are two types of audits that we conduct to gauge your current SEO efforts. We'll briefly give you an overview of the two to provide you with an idea of why hiring us would dramatically and positively benefit your company.
Every page of your website matters, which means that each page must be vetted to ensure that it's in line with Google's current Algorithms. If you haven't optimized your website, there are likely critical areas that need addressing.
Keep in mind; what we are about to present is a simple overview of our SEO Audits, which are complex, detailed, and exhaustive. This audit focuses on how your website is constructed, what it contains, and how users interact with each page and element. We'll be examining the following: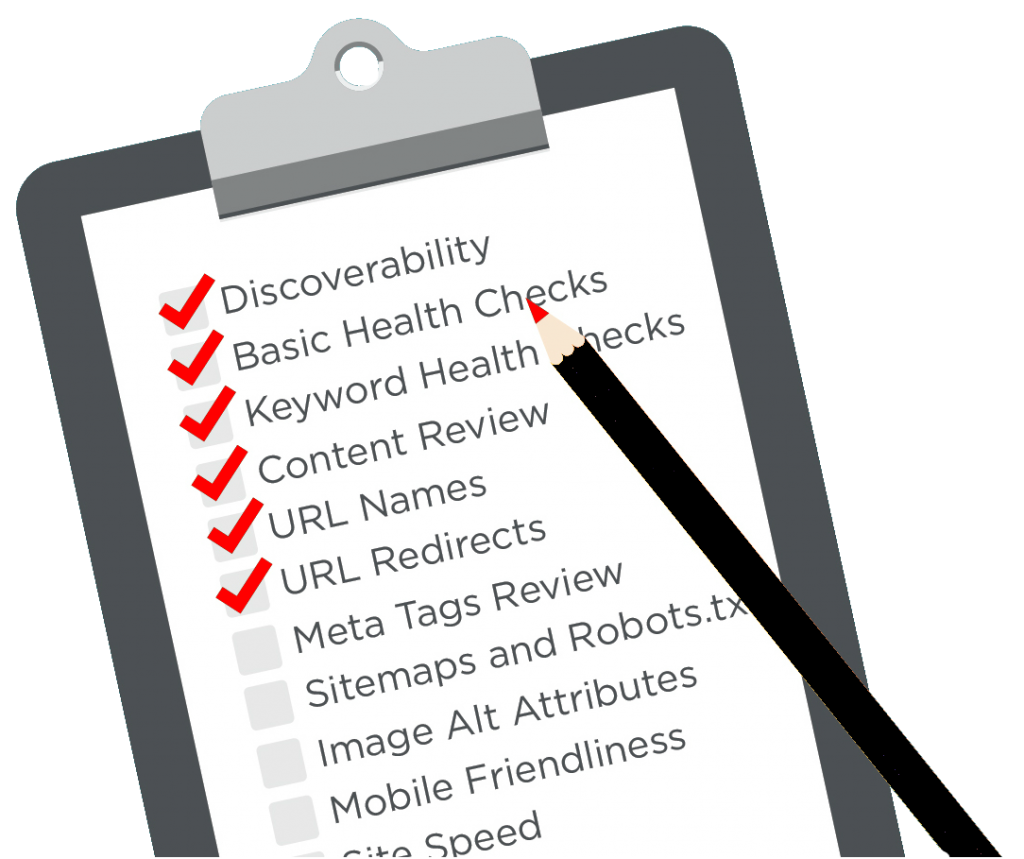 Professional SEO Audit Checklist
We start off with the following:
Does your website have any automated or manual Google penalties?
Is your brand name recognizable by Google, Bing, and Yahoo?
Using the search string, "site:YourWebsite.com" we determine how many pages of your website are indexed in Google.com, Bing.com, and Yahoo.com. In the next step, we expand the audit by asking and answering these questions.
Technical SEO Audit Checklist
Is your website registered with the Google search console and the Bing webmaster tools?
Have you specified a preferred domain in the Google Search Console?
Have you installed Google Analytics?
Is your robots.txt up to date?
Are your URLs SEO friendly?
Have you activated a Breadcrumb Menu?
Are you using structured data markup on the pages where it is applicable?
Have you set a canonical URL for all of your pages?
Is your 404 Page optimized?
Is your XML Sitemap optimized?
Have you secured your website with an SSL certificate? Meaning, have you converted your website from http://YourWebsite.com to https://YourWebsite.com?
Is the loading speed of your website up to par?
Is your website mobile friendly?
Have you adopted Accelerated Mobile Pages (AMP)
Is your website responsive?
If your website is available in multiple languages, have you optimized it for Multilingual SEO?
Have you checked and optimize your website's structure?
On-Site SEO Audit Checklist
Are your titles, meta descriptions, and tags optimized?
Are your headings and text formatted properly?
Is your content SEO LSI optimized?
Is the length (word count) of your content in line with that of your competitors?
How is your Internal link structure?
Are your images SEO optimized?
Does your website have any broken links?
Is your site returning any 404-page errors?
Does your site have any 302 redirects?
Are you outbound linking to bad SEO neighborhoods?
Are you improperly using banner ads?
Is your website user-friendly?
Off-Page SEO Audit Checklist
Have you evaluated the backlink architecture of your website?
Are you receiving inbound links from a mixture of authority websites?
Do your targeted keywords have the proper anchor text ratio?
Have you evaluated the backlink architecture of your top competitors?
Do you have a strategic plan in place to methodically drip backlinks to your website?
Are you periodically performing competitor analysis on your competition?
Are you engaged in the appropriate social media platforms for your business?
Are your social media profiles SEO Optimized?
Are you regularly updating your social media platforms?
Have you given users the option to subscribe to your RSS feed and newsletter?
On-page analysis can be quite technical, but reports from our experts will shed light on the steps you need to take to improve your website rankings.
With off-page analysis, we determine your website's reputation and how other sites connect (link back) to it. We'll figure out how popular you are in your niche and whether or not consumers generally trust you.
We make this analysis by checking your inbound links. Inbound links only matter when they're coming from relevant and credible sources.
The number of backlinks doesn't necessarily dictate the amount of traffic you get, and trying to scatter them all over the web mindlessly will do more harm than good. We'll create a plan that details how many backlinks you need and what type of websites should be linking back to you.
We eat this stuff for breakfast, lunch, dinner and snacks, so we know what we're doing. Let us do your strategizing while you watch your online rankings improve. See our SEO Services.

SEO Audit Services Frequently Asked Questions
What Else Is Included With The SEO Audit?
Apart from the two kinds of analyses we've discussed above, we also look for bugs in your site. Think of it as landscaping and pest control for your garden.
We do several more complicated things than just tinkering with Google Analytics and adhering to the Google Search Console's suggestions. 
We scan your website to ensure that all required pages are indexed; if not, we get them indexed. We rid your site of problematic redirects, check for plagiarism, clean up source codes, a tune-up for speed, secure your "robots," and then provide you with detailed stats. Our concrete strategies have proven to change websites for the better.
How Invasive Is This Process?
We don't always need full access to your website. Most of the time, we can make do with your Google Analytics account and Webmaster Tools. We use our very own software to "crawl" through your website, and that doesn't require full access at all.
Can You Edit Link Profiles?
Yes, we provide link quality checks because that should be a part of any thorough SEO service. However, if you want something more customized based on your needs, contact us for a free consultation, we'll see what we can do.
What Do You Include In The Final SEO Audit Report?
Our reports are comprehensive; we cover content, technical aspects, and on and off-page metrics. We score these elements and provide improvement solutions. We'll also give your website a general rating based on how well it works in terms of *PageRank (Google's algorithm).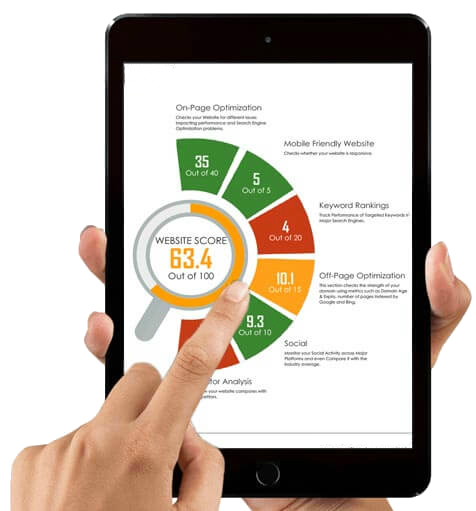 Can SEOForLocal Make The Suggested Improvements?
Of course, we can, but that's not part of the auditing process. If you want us to fix the issues related to your website, we can provide you with an estimate.
Is Auditing My Website Essential?
If your website's lackluster results are frustrating you, then yes, it's a must. However, your website doesn't have to be in trouble to benefit from an SEO audit. There will always be aspects here and there to improve your website's performance, and we're here to tell you how you can pull that off.
What About The Free SEO Audits?
No free SEO audit tools or person that provides free SEO audits can perform the complex and exhaustive examinations a website needs to determine effective SEO strategies and tactics. That's like someone offering you a free phone; you know from the onset that your phone service will not be the same as having a paid Verizon, Sprint, or T-Mobile account.
The cost, time, software, SEO Tools, education, and experience required to perform a thorough SEO Audit, dictates that no one can do it for free; any more than Verizon, Sprint or T-Mobile can provide free 4G or 5G phone service.
How Long Does An Audit Usually Take?
It usually takes about two weeks. However, the process can take up to three weeks; it depends on the complexity of your website, your link structure, as well as your off-page competition, and of course, our workload. We will provide you with approximate timetables after we study your site's performance extensively.
*Although Pagerank has been retired, we find that the metrics used to determine PageRank still exist.